Hire a Flying Spitfire or Hurricane
The Historic Aircraft Collection (HAC) was formed by Guy Black and Angus Spencer-Nairn to restore and operate a collection of piston engine military aircraft.
Behind the scenes, a lot of restoration work is taking place, which in the next few years, will return a number of unique aircraft to the skies.
HAC can offer a wide range of air displays services, from a simple flypast at weddings, funerals or corporate events, through aerobatic displays, displays to music and even complete air show programmes.
You can book individual aircraft, a combination of aircraft or how about the Last Dogfight set piece?
We often co-ordinate our ground displays with the RAF at War a re-enactor group who can provide authentic ground support to us.
HAC fly the Spitfire and Hurricane for Musical Associate's concerts up and down the country
Click here for more information on these events
To contact The Historic Aircraft Collection click on the link
Please mention that you found the HAC through Spitfire Spares Thank you Graham Adlam

HAC operate Spitfire Mk. Vb (G-MKVB), Hawker Hurricane XIIa (G-HURI), Hawker Nimrod II (G-BURZ), Fieseler Storch (G-BPHZ) and Chipmunk (G-BWUT)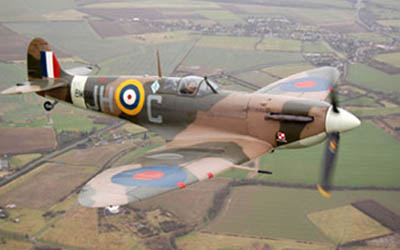 Combat veteran, Spitfire Mk.Vb, (G-MKVB), BM597. One of 1000 aircraft built at Castle Bromwich against contract B981687/39, BM597 was delivered to No.37 M.U. at Burtenwood on 26 February 1942, being assigned to 315 Sqn on 7 May 1942 and on to 317 Sqn on 5 September 1942, both at Woodvale. On 13 February 1943, it suffered Cat B damage and was removed for repair on 28 February. It was ready for collection again on 2 June and No. 33 M.U. took delivery and on 9 June it was allocated to Vickers Armstrong for an undisclosed purpose. It returned to No.39 M.U. Colerne on 23 November before moving to No. 222 M.U.High Ercall (Packing Depot) on 4 January 1944 and then back to No. 39 M.U. on 14 April. It was stored there for almost a year until it was issued to No. 58 OTU, its last operational unit from which it was retired on 16 October 1945. It was then transferred to instructional airframe status at No. 4 S of TT, St Athen as 5713M.
Following St Athen, BM597 was assigned to Hednesford (1950-1955, Bridgenorth (1955-1960) and Church Fenton (1960-1989) as gate guardian. On 23 January 1967 it was dispatched from Henlow to Pinewood where it was used as the master for the moulds that were made to cast the fibre glass replicas used in the film 'Battle of Britain'. It remained at Pinewood until August 1968 when it was returned to Henlow and finally to Church Fenton in 1969. Tim Routsis, the founder of Historic Flying, recovered the aircraft in 1989 as part of a deal with the RAF and sold it to HAC in 1993 with Historic Flying undertaking the complete restoration to original specification and flies now in the colours of 317 Squadron, though in an earlier camouflage paint scheme.
The HAC team are in contact with a number of Polish veterans that flew BM597 whilst in service with the Polish 315 (PK-C) and 317 (JH-C) Squadrons RAF. Squadron Leader Ludwik Martel and Squadron Leader Tadeuz Anderz were reunited with the aeroplane at the Old Hay Charity Fly-in in July 2000. From squadron records, other pilots who flew the aircraft were Sgt Slonski, P/O Widziszewski, P/O B. Semmerling, F/O H. Wyrozemski, F/S J. Adamiak, P/O S. Blok, P/O J Zbrozek, Sgt Alexsander Chudek, F/LT Waleriaw Jasiowowski and F/LT W.J. Zajac
F/LT Zajac flew BM597 on several occasions including acceptance checks and tests when BM597 was assigned to 315 Squadron in May 1942.
Hurricane Mk XIIa 5711 (G-HURI) was built in 1942 by the Canadian Car Foundry as part of their sixth production batch and it joined the Royal Canadian Air Force in 1943. It is believed to have served with 123 Squadron at Debert before going to 127 and 129 Squadrons at Dartmouth and onto 1 Operational Training Unit at Bagotville.
Struck of charge from the RCAF in 1947 it was purchased by a syndicate in Saskatchewan. It was restored by Paul Mercer in 1985 and made its first post-restoration flight in 1989. Historic Aircraft Collection acquired the Hurricane in 2002; it is still based at Duxford where it is the perfect stablemate for HAC's Spitfire Mk.Vb.
After undergoing an 18 month extensive programme of repairs and maintenance the Hurricane reappeared in an entirely new paint scheme for 2004. G-HURI now flies as 'Z5140' with the code letters HA-C and is in a paint scheme that was worn by a Gloster-built Hurricane IIB, flown with 126 Squadron during the siege of Malta. Z5140 arrived at Malta on June 6th, 1941 during Operation Rocket, having flown off HMS Ark Royal. Whilst it would be expected that the aircraft would be in a tropical paint finish, the Malta squadrons were desperate to receive any aircraft regardless of colour and the first ones were kept in the familiar "Battle of Britain" green and brown scheme.
In September 2005 Hurricane "Z5140" became the first Hurricane to return to the Mediterranean island of Malta since the Second World War. It flew there together with Spitfire BM597 as part of the Merlins Over Malta project.
Nimrod II K3661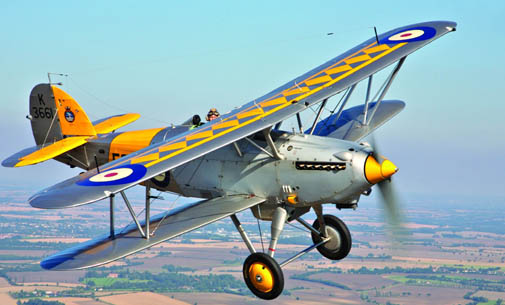 Restoration was started in earnest in 1992, with the first challenge being to re-manufacture the spars, which are a complex roll-formed item from high tensile steel strip. Without this extremely difficult part being successfully re-made there was no point in going further forward. The fortunate discovery of a large number of drawings in Denmark, eased the way forward after the spars were re-manufactured satisfactorily, and further years of work and research has lead to the aircraft towards completion. A Kestrel engine was found in Canada, and rebuilt to the appropriate specification. The Nimrod first flew on 16th November 2006 at Duxford