Rockets and Flying Bombs
This area of WWII aviation collecting is about as rare as it gets.
Their are very few survivors of the V1 and V2
This page will include a selection of models, and replicas as well as I hope some artefacts from the real weapons.
Vergeltungswaffen-1 (Vengeance Weapon 1), also popularly called Flying Bomb, Buzz Bomb or Doodlebug, was a German jet-propelled missile of World War II, the forerunner of modern cruise missiles. More than 8,000 V-1s were launched against London from June 13, 1944, to March 29, 1945, with about 2,400 hitting the target area. A smaller number were fired against Belgium. The rockets were launched from the Pas-de-Calais area on the northern coast of France and subsequently from other sites in German-occupied western Europe. The V-1 was about 8 metres (25 feet) long, exclusive of the long tailpipe of its jet engine and had a wingspan of about 5.5 metres (20 feet). It was launched from catapult ramps or sometimes from aircraft. It carried an 850-kilogram (1,870-pound) explosive warhead at about 580 km (360 miles) per hour and had an average range of 240 km (150 miles).
A V1 Flying Bomb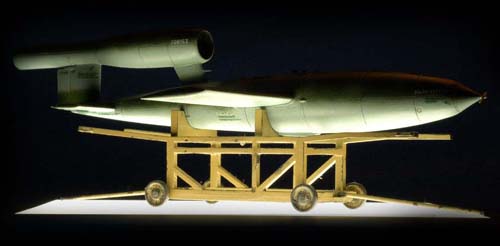 The response was to extend the attacks on the launching sites, whilst fighters formed the first defence over the Channel and the South Coast. 192 heavy AA guns and equal number of light weapons provided the next line of defence. On the eastern outskirts of London 480 balloons provided the final element. Initial patrols were made by 11 squadrons, two Mosquito-equipped for night operations.
These arrangements were inadequate and the guns were increased to 376 heavy and 540 light weapons and the balloons were strengthened to around 1000. Fighter units included the new 150 Wing at Newchurch with three squadrons of Tempests, Spitfires of 41, 91 and 322 Squadrons and Mustangs of 129, 306 and 315 Squadrons. A special flight of Tempest was formed at Wittering with pilots of the Fighter Interception Unit. This moved to Newchurch to join the other Tempest squadrons. Over the weeks which followed further units became involved including Polish Mustang, radar-equipped Mosquito and Typhoon squadrons
By 15 July 2578 V1s had reached England. 1241 were destroyed by the defences, 1280 falling in the London area. Between 9-15 July the percentage destroyed reached 50%, mainly by the fighters. The damage caused were still to high so the guns were moved to the coastal area. On 19 July 412 heavy and 600 light weapons were in place together with 168 Bofors and some rocket batteries. Now the fighters patrolled over the Channel and over central Kent, between the guns and the balloons. The guns were now receiving stocks of proximity-fused shells, which increased their results. Between 16 August and 5 September only 17% of the 1124 launched V1s reached their target area. An estimated 6,184 people were killed by these flying bombs.
The V2 Rocket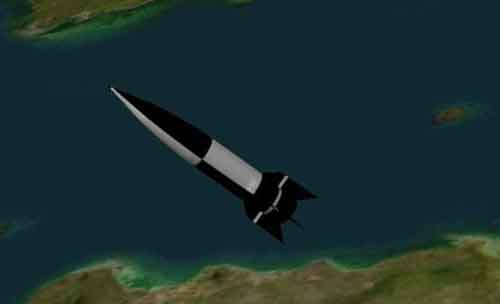 The V-2 Rocket, was developed by Werner von Braun, Walter Dornberger and Hermann Oberth at the rocket research station at Peenemunde.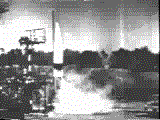 The V-2 was first used in September, 1944. Like the V1 it carried a one ton warhead. However, this 14 metres (47 feet) long, liquid-fuelled rocket was capable of supersonic speed and could fly at an altitude of over 50 miles. As a result it could not be effectively stopped once launched.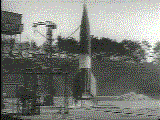 Over 5,000 V-2s were fired on Britain. However, only 1,100 reached Britain. These rockets killed 2,724 people and badly injured 6,000. After the D Day landings, Allied troops were on mainland Europe and they were able to capture the launch sites and by March, 1945, the attacks came to an end.
All the following remains of V1 and V2 rockets are original and by their nature as flying bombs are extremely rare. Every piece of remaining rockets and flying bombs were pounced on by the Allies and shipped back to their respective countries along with the scientists who designed and built them many of whose war crimes were ignored . The only pieces now in the public domain are fragments from the bombs that crashed and exploded, most pieces were vaporised on impact and surviving parts are very unusual.
V2 Oxygen Alcohol burner cap (pg1 Rocket)

This is an extremely rare and substantial original piece from a V2 Rocket. Its a burner where the fuel was mixed and ignited to create the thrust. It still, has a number of injectors which have individual value in their own right.

£299

V1 Engine part 1 (pg1 Rocket)

£125

V1 Engine part 2 (pg1 Rocket)

This is another piece of the side of the engine and is 280mm long

V1 Engine part 1 (pg1 Rocket)

Here is a large, (230mm ) piece of a V1 rocket motor, this piece forms the side of the motor as seen in the diagram left.

Front view of the V1 rocket motor

V1 Engine part 2 (pg1 Rocket)

£125

Click on the picture to enlarge it

Here is a V1 rocket tail in an alloy display case with pictures and a wartime booklet.

£699

V1 Flying Bomb tail (pg1 Rock)

This is an extremely rare and possibly unique item. It is an original tail from a V1 flying bomb. By their nature very little wreckage survived from the V1s this substantial complete tail unit came for a V1 that either failed to explode properly or was blown clear.

It has its original finish and makes a great display in a very solid case.

The Vergeltungswaffe 1 FZG-76 (V1), known as the Flying Bomb, Buzz Bomb or Doodlebug, was the first modern guided missile used in wartime and the first cruise missile. Vergeltungswaffe means "reprisal weapon", and FZG is an abbreviation of Flak Ziel Gerät ("anti-aircraft aiming device"), a misleading name.

Called the Buzz Bomb because of the of the engine it caused considerable fear in the population of London. People would listen for the sound approaching, but then be relieved when it sounded overhead as that meant the bomb had actually passed them.



Click on the pictures to enlarge them

This a big piece its part of the lower structure of the V2 a ring which forms the shell and framework of the V2 its very heavy and is 850mm long.

£275

V2 ring structure (pg 1Rockets)

This is a sender unit from the fuel system of a V2 rocket.

V2 sender unit 2 (pg1 Rocket)

V2 sender unit 1 (pg1 Rocket)

V2 sender unit 1 (pg1 Rocket)

£125

V2 sender unit 2 (pg1 Rocket)

This is a sender unit from the fuel system of a V2 rocket.

£125

N/A

V1 Fuel pressure pick up point (pg1 Rocket)

This piece sits in the front of the V1 motor and acts as a starter in the fuel system. Seen in situ under.

Fritz flying bomb elevator (pg1 Rocket)

This is an elevator from the German Fritz flying bomb, its a big heavy piece made from solid alloy. This is s seriously rare item less of these weapons were produced than the V1 and there aero only a very few surviving examples.

As early as 1940, the German Luftwaffe began serious development of un powered anti-ship missiles dropped by bombers. The missile would glide to its target, remotely guided by a controller within the aircraft. Testing in Germany proved difficult as atmospheric conditions interfered with the signals sent to the bomb, and by early 1943 the experiments had been moved to northern Italy. When Italy defected to the Allied side in September 1943, the test squadron (III/KG100) was in place to use its Fritz-X glider bombs attack the Italian fleet as it fled to Malta.

On the afternoon of 9 September, eleven Do.217 glider-bomb carriers of III/KG100 took off from an airfield near Marseilles and located the Italian fleet west of Corsica. The new battleship Roma sank after a single hit, while Italia suffered damage. Two days later, the squadron and its sister unit II/KG100 began attacks against the Allied fleet conducting amphibious landings in the Bay of Salerno.

A Fritz X badly damaged the American cruiser Savannah and slightly damaged her sister Philadelphia. On the 13th, a Fritz X seriously damaged the British cruiser Uganda and others damaged Philadelphia and two British destroyers while a Hs.293 glider bomb sank the hospital ship Newfoundland. A transport sank after a hit from an Hs.293 bomb on the 14th, and on 16 September the Battleship Warspite suffered two serious hits from Fritz X bombs and had to be towed to Malta.

Once Allied fighters arrived on the scene, the glider bombs no longer proved effective. The carrier aircraft had to fly a long, straight path to launch them, and this made them easy prey for fighters. The Fritz X, designed to penetrate warship armour, could only be used during daylight; the smaller Hs.293 had some effectiveness at night and was used in that role after the Fritz X carriers were withdrawn.

£499

V2 Fuel line (pg1 Rocket)

This is a piece of pipe that supplies fuel to the V2 rocket motor.

150mm long approximately 30mm diameter

£55

V2 Various components (pg1 Rocket)

Assorted V2 rocket parts

£95

V2 wiring loom (pg1 Rocket)

V2 wiring loom attached to plate.

£25

Shell case fragments from VI strike at Wickford Essex 2 (pg1 Rocket)

310mm across

N/A

Shell case fragments from VI strike at Wickford Essex 4 (pg1 Rocket)

This is solid steel and heavy

£35

Shell case fragments from VI strike at Wickford Essex 5 (pg1 Rocket)

£25

Shell case fragments from VI strike at Wickford Essex (pg1 Rocket)

These are fragments of a V1 that came down in Wickford in Essex, on this link , link 2 is a childhood memory of the VI hitting the Town.

Shell case fragments from VI strike at Wickford Essex 1 (pg1 Rocket)

160mm across

£25

To swat a Bug A Hawker Tempest

A rare site an unexploded doodle bug VI flying bomb

300mm across

£25

V2 part (pg1 Rocket)

So far I have been unable to identify how this piece fits to the V2 please email me if you ID the part. It came with some other identifiable parts from a reliable source.

Not for sale until ID is obtained.

V2 part motor casing (pg1 Rocket)

This is part of a V2 rocket casing came in a collection with the other V2 parts shown above.

100mm across

£25

Click on the pictures to enlarge

V2 Fuel injection mixing unit with history (pg1 Rocket)

A superb rare piece of a V2 rocket in excellent condition. This part was picked up by the suppliers Father when a boy, the V2 fell in the area around cuckoo school, Westcott Crescent in Hanwell London. The V2 exploded and took out four houses and was buried in clay the father picked up several pieces of V2 including this part. It has been in his family ever since , being used as a door stop. he took it to the Imperial war museum where it was recognised as part of the fuel injection mixing unit supplying fuel to the boosters. It comes from inside the turbo pump assembly which goes down to the combustion camber. Apparently when found this part was encased inside a metal tube which was quite battered and was lost over the years. It comes with a collection of paperwork showing the bomb damage and memories of people living in the area when the V2 hit.

£399